Friday, November 22
5:30 pm – 6:30 pm
Madzy
Register
Come burn off your weekly tensions and kick off your weekend with this amazingly fun and energetic class!  We will flow VINYASA style while offering opportunities to break out in DANCE to fully activate our bodies and elevate our spirits to a whole new level!
---
In Good Hands: A Winter Solstice Celebration
December 21st
2:30 pm – 4:30 pm
Eoin Finn
$45 Pre-Register or $50 at the Door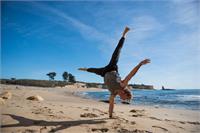 Last chance to nail those arm balances this decade! Whether arm balances scare you or exhilarate you, there you will pick up incredible tricks of the trade through this Blissology Alignment Immersion.  This is the definitive arm balance workshop that will catapult your practice into the realm of total bliss by getting the physics of arm balances down.  You will see that arm balances are not only fun but they can be can be very therapeutic as well! You will feel childlike exhilaration mixed with zen, sthria (steadiness) and sukha (comfort).  This workshop uses traditional wisdom from the Krisnamacharya tradition mixed with unique and progressive Blissology Yoga methodology. This class is suitable for all levels from beginner to yoga teacher. Come play!  Stay for a Holiday treat and toast after class :)!
Yogi, Surfer and Blissologist Eoin Finn is the founder of Blissology Yoga, which allows the wisdom of our innermost heart to guide our relationships with our bodies, our communities, and nature. Eoin is passionate about bringing spirituality down to earth and reclaiming quiet time in nature as the greatest spiritual portal and our best source of health and happiness. As an ocean activist, he started the Blissology EcoKarma project, raising aid and awareness through yoga for the world's imperiled coral reefs. He's been featured in Oprah, InStyle, Vogue, the New York Times and the Yoga Journal. Learn more at blissology.com.
---
SEAS THE DAY – SPRING RETREAT
February 29th – March 6, 2020
Lo Sereno Hotel, Trancones, Mexico
Alice, Madzy & Jaime
Register
You will be pampered and invigorated during your week at Lo Sereno Casa de Playa — a stunning, laidback boutique hotel nestled between the Sierra Madre Mountains and the Pacific Ocean.  Lo Sereno fully lives up to its name, offering a continual sense of Serenityand Zen. Nothing detracts from the hotel's prized jewel: a three mile stretch of unspoiled beach, lined by palms and revered as one of the best surf spots in Mexico.  With just 10 beautifully designed guestrooms (all with views and private patios), this place exudes the spirit of a private beach home.  Barefoot luxury, at its best! Our yoga classes will take place on-site with sea views and Casa de Playa breezes. The restaurant at Lo Sereno will serve up gourmet wholesome Mexican fare, sourcing fresh local ingredients daily. 
Please note: we opened this retreat up to returning retreat guests in advance of opening it to the entire studio population. As a result, we are already at about 60% capacity. If this intrigues you, don't dally! Book your spot today!
---
Vinyasa Flow Yoga in Madison Valley
Even more information about vinyasa flow yoga in Central Seattle.